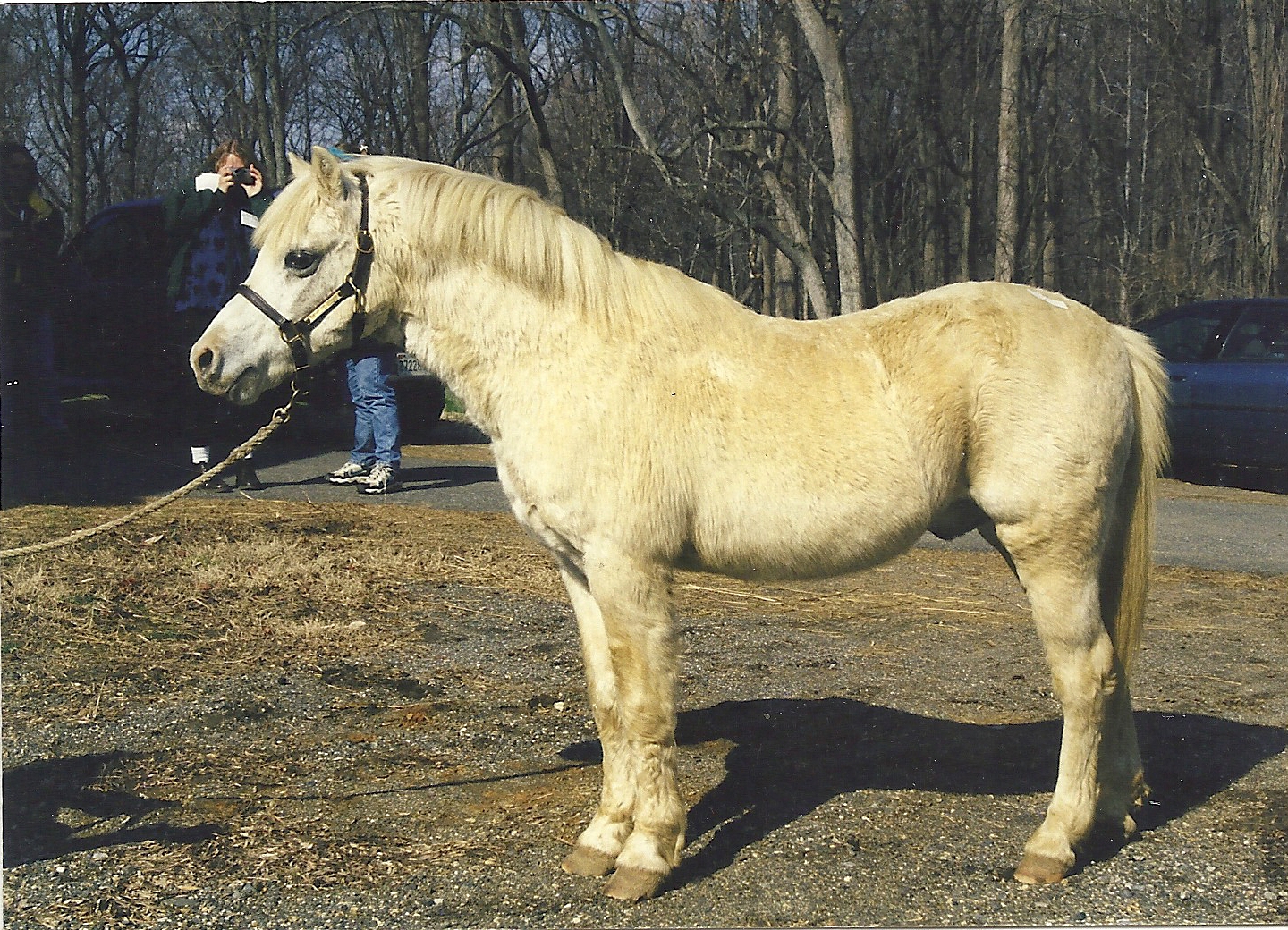 Severn West Wind (at 28 Years)
Severn West Wind (1971-2001) (Severn Storm x Severn Lyric by *Severn High Tide). West Wind's pedigree quickly goes back to very old Coed Coch breeding. His grandmother, Coed Coch Ebrill (1933-1955) was Mrs. Iliff's first Welsh mare. She was by Revolt, also Coed Coch Glyndwr's sire, and out of Coed Coch Eirlys (1919), one of Miss Brodrick's foundation mares. West Wind was heavily Glyndwr bred on his dam's side through his great grandparents Coed Coch Pansi, Coed Coch Socyn and Coed Coch Seryddwr (the sire also of Coed Coch Madog). West Wind was shown as a young pony and then was leased to Kathy Reese who showed him to Grand Champion at the American National in Tulsa in 1977. He was retired from the show ring in 1978 with a Grand Championship at the Maryland State Fair – one of the largest Welsh shows at the time.
West Wind sired a total of 117 purebred foals and 10 registered half Welsh. West Wind achieved his sire AOE in 2014 with children including Severn Easter Bonnet and Severn Baubles 'n Beads LOM AOE from his last two foal crops in 2000 and 2001. West Wind also had champion children who made their mark well before the show program point system was in place including Extra Dividend, and Smoke Tree Tamarin. Other offspring have excelled in different venues including Severn Jolly Cabello, one of the few Section A ponies to compete and win in combined driving in the Advanced Pony Division. Although West Wind's major contribution as a sire has been to Section A ponies, he is in the pedigrees of some Section B's as well as half-welsh such as Severn Queen of Hearts and Severn Summer Breeze, both of whom have won WPCSA national awards. He also was the sire of several top hunter ponies over the years the most notable being I.C. Blue Shadow winner of pony finals and named small pony hunter of the year by what was then AHSA. All in all, West Wind has had and continues to have considerable influence on the Section A's in this country despite his death in 2001. He was a grand old gentleman!